A doorbell video showed two men forcing their way into an Arlington Heights, Illinois, home at gunpoint Saturday, WGN-TV reported.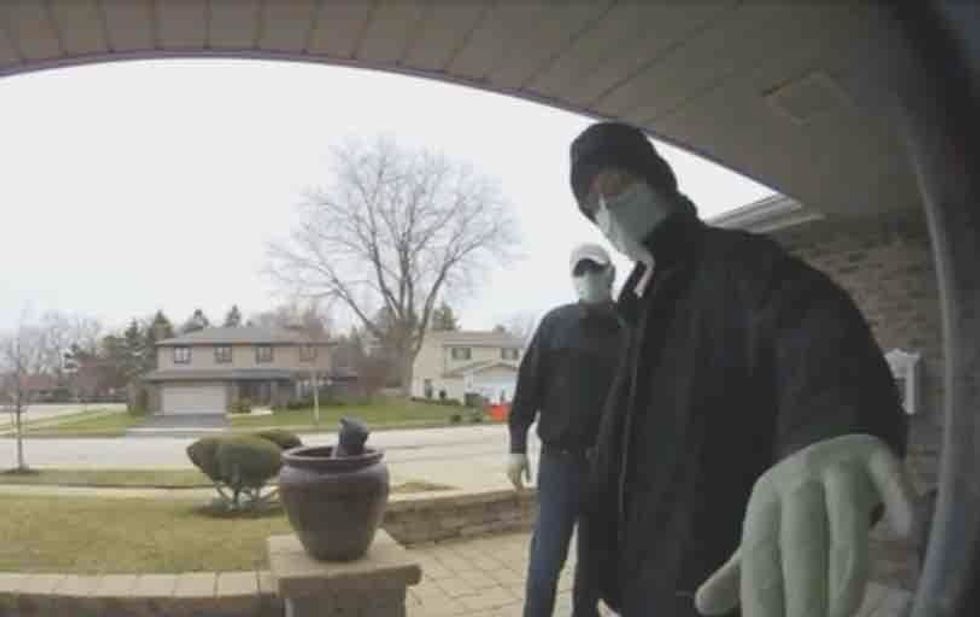 Little did they know they were robbing the house of a pro 2nd amendment family. The two men attempting to rob the house, Bradley J. Finnan, 39, and Larry D. Brodacz, 58, were armed and after boxes containing $200,000 in cash that Brodacz claimed he saw in the home 20 years prior. The two were captured on a Ring doorbell security camera as they approached the home just before 2 p.m., the Daily Herald reported. When Brodacz noticed the Ring doorbell he told Finnan not to look at it.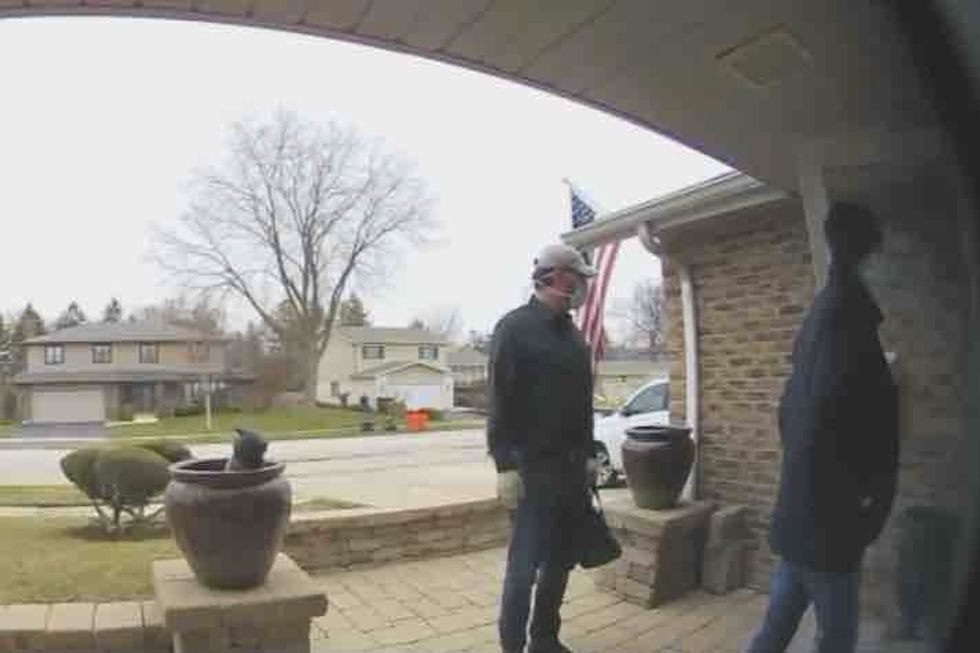 The male homeowner – expecting landscapers – answered. Brodacz and Finnan then forced themselves inside past the homeowner. Finnan was chased from the house by the homeowner who then proceeded to punch Finnan repeatedly.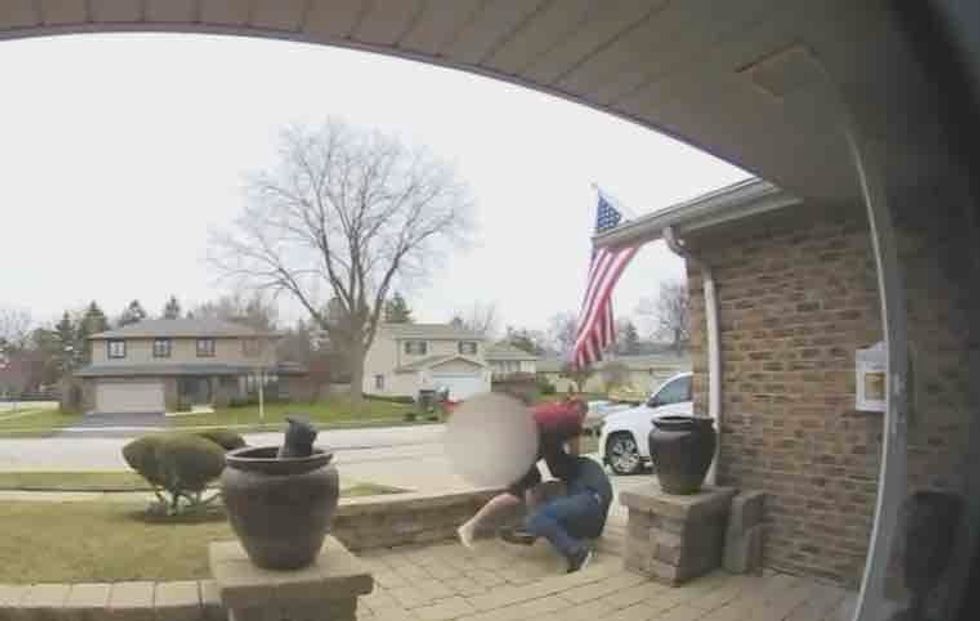 The Stupidity Continues
The homeowners wife, when she saw what was going on, screamed and ran to an upstairs bedroom with the couple's children and closed the door, the paper said. Brodacz broke the bedroom door, pushed the children onto the bed, and pointed his gun at the woman who pleaded with him not to shoot.
The homeowner, now done with Finnan, returned inside and was retrieving a handgun from the home's master bedroom when he was struck in the back of the head. During the struggle, the homeowner fired a shot at Brodacz but missed, and then the pair bit each other. Brodacz then took a knife from his waistband and approached the homeowner. The homeowner fearing for the lives of him and his family, fatally shot Brodacz in the stomach.
Finnan Charged With Murder
The Daily Herald said Finnan is charged with murder under a statute that allows a defendant to be so charged if the accused takes part in felony offenses that lead to another's death even if the defendant wasn't directly involved in the killing. He's also charged with home invasion and is being held without bail. Finnan could face a life sentence if convicted, the paper said, adding that April 21 is his next scheduled court appearance.
Sources
https://assets.rebelmouse.io/eyJhbGciOiJIUzI1NiIsInR5cCI6IkpXVCJ9.eyJpbWFnZSI6Imh0dHBzOi8vYXNzZXRzLnJibC5tcy8yMjkyMjM0MS9vcmlnaW4uanBnIiwiZXhwaXJlc19hdCI6MTYwOTk0ODQ1N30.gitVXh4K57GeKcaxe8lXBbhYRe7cY7HDa_n0RvOyY3o/img.jpg?width=980
https://assets.rebelmouse.io/eyJhbGciOiJIUzI1NiIsInR5cCI6IkpXVCJ9.eyJpbWFnZSI6Imh0dHBzOi8vYXNzZXRzLnJibC5tcy8yMjkyMjM0My9vcmlnaW4uanBnIiwiZXhwaXJlc19hdCI6MTY0OTM4ODcyNn0.zLsylifk7mHEFmAw4s_A-idi-b9gqh1wKHjYUA2fCy4/img.jpg?width=980
https://assets.rebelmouse.io/eyJhbGciOiJIUzI1NiIsInR5cCI6IkpXVCJ9.eyJpbWFnZSI6Imh0dHBzOi8vYXNzZXRzLnJibC5tcy8yMjkyMjM0OC9vcmlnaW4uanBnIiwiZXhwaXJlc19hdCI6MTYwNzQzNTE5Mn0.5WGDKc3dvs2Lq8dcA0_6EKgdh9lHxzFq8TXYaQLkNys/img.jpg?width=980
https://www.theblaze.com/news/armed-intruders-force-their-way-into-home-but-homeowner-punches-one-out-and-shoots-the-other-to-death-surviving-suspect-charged-with-murder